On Tap Screen - node for handling touches (double, triple…)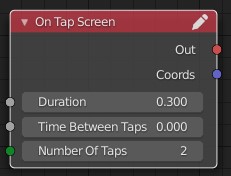 Input parameters:
Duration - time during which the number of touches is counted (default value is 0.3 seconds);
Time Between Taps - the time that must elapse between touches (default value is 0). So that you can "rein in" the fastest finger. =)
Number Of Taps - the number of touches that need to be done to execute the event (default value is 2).
Output parameters:
Coords - coordinates of the last touch.
I'm waiting for suggestions on the name, additional features.
As a development, you can set a sign, setting which, you can simply count how many touches the user has made in a time, but I'm afraid this will complicate the node (the algorithm is simple and you can simply do it with a timer and a Surface node). What do you think?
Scripts: OnTapScreen.zip