With the advent of a new option (https://github.com/armory3d/armory/pull/1935), the idea came to add another setting for the target Android(C) platform when publishing the application: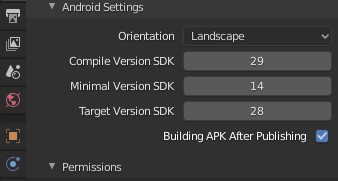 When the option is set, after publishing, the APK file is built:
for Windows: /gradlew.bat assembleDebug
for *nix: /gradlew assembleDebug
A prerequisite is the presence of the ANDROID_SDK_ROOT variable (path to the Android SDK) in the system environment.
Questions:
Do you need to move the value of the ANDROID_SDK_ROOT variable into the global settings Preferences - Add-ons - Render: Armory? In this case, there will be a check, if the specified variable is not in the system, then the value from this field is set.
Do I need to open (or enter a setting in the Android Settings panel) the folder with the generated APK file?