Hello all,
Since this is my first post, let me say I love Haxe, I love Blender, so obviously, I love Armory3D.
I have been prototyping a game for a while using Armory3D, waiting for a new release to check if finally I can get an APK (I've not been able to do with Armory05_beta nor Armory06_alpha) so I can test real case perfomance on mobile devices.
And it seems that… good news! But still having some problem (but I have an APK, which is a lot).
These are the steps I follow:
Create a new project and call it "Hello_armory_06_beta" (yes, I'm so inspired).

Go to Render, Armory Player, And play.
Everything seem to work properly, so I try to make an APK.
I go to armory exporter, and export to Android C.

Open android studio, and open the project inside android-native-hl-build folder.

I go to build menu, build bundles/apk, build APK, and… It makes an APK!
The problem is that the app starts, but the cube is not rendered at all (all black), and a strange sound sounds intermittently.
This is the output log: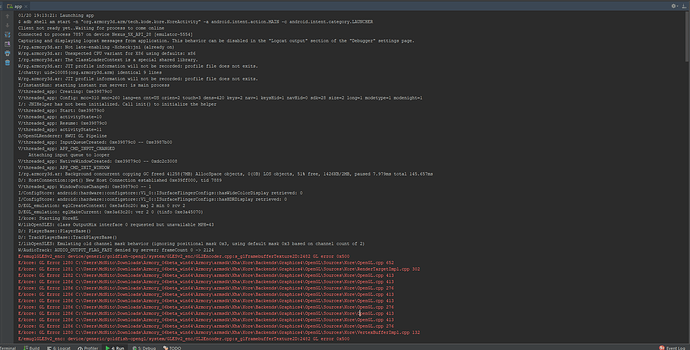 So i guess is something about GL or audio, but I'm a bit lost.
Can anyone help me? Thanks in advance