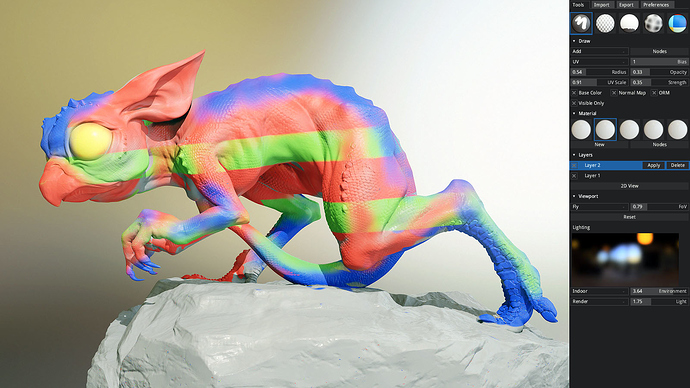 ArmorPaint 0.3 is out!
ArmorPaint is an in-development, stand-alone tool fully specialized in physically based texture painting of 3D models.
If you are Armory patron, get it for free at Patreon.

If you own Armory on itch, get the download link at My Purchases - Armory - Install Instructions.

If you wish to further support ArmorPaint, get it from itch:
Get started:
http://armorpaint.org/manual/
---
Note: At this point ArmorPaint is a very limited tool and is very likely to contain major bugs! When you encounter issues, please report them at https://github.com/armory3d/armorpaint/issues. There are already several known issues which I hope to fix.
Updates:
Runs on the latest Armory, idle GPU usage should be greatly reduced now
Further refined UI, easily accessible toolbar at the top
More than 5 materials can now be created in the material shelf
macOS builds are added, unsigned - please read attached instructions.txt
Added erase tool
Added support for color id maps
Added support for layers - basic for now, handles 2 layers
Added support for pen pressure on Windows, Linux in the works
Improved paint bias, texture cracks should be reduced now
Theming support
Plugins support
Improved UI scaling
Added Preferences tab - UI Scale can now be configured inside the program!
Thanks for the battle-testing - it's amazing to see you using ArmorPaint in your work!