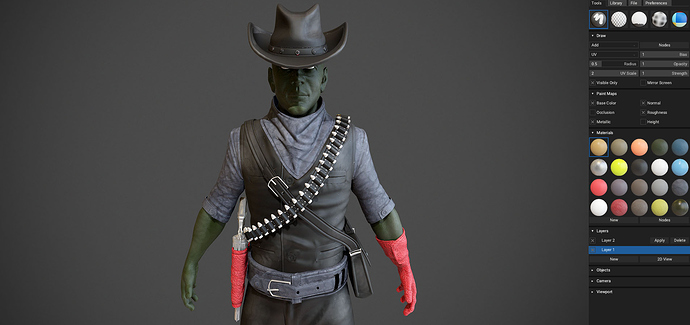 Cowboy by Ricardo28roi
ArmorPaint 0.5 is out!
ArmorPaint is an in-development software specialized in PBR texture painting of 3D models.
Buy the preview version if you wish to support development

If you support Armory fund, use the link from welcome email to download

In case of issues, 0.4 builds are still up
Get started:
https://armorpaint.org/manual/
---
Note: ArmorPaint is in early stages and is likely to contain major bugs! If you encounter issues, please report them on GitHub. I will do my best to fix all mayor issues as we go.
Updates:
Manual has been updated
Website has been updated
Runs on the latest Armory
Program power usage has been reduced
Performance on lower-end hardware has been improved
Cleaner directory structure, single .exe/binary now + data folder
Program size has been reduced, down to ~6MB now, ~15MB unpacked
Material preview is now instant on each material node change
Unlimited undo support, set to 4 steps by default
Amount of steps can be configured in Preferences tab, up to 128 undo steps tested
Up to 5 layers now supported
Improved .obj importer, all unwrapped files should import properly
600MB+ .obj files should import properly now
Improved .fbx importer
Fixed flipped UVs for imported .fbx files
When importing mesh with no UVs, ArmorPaint will do basic unwrap itself
This allows to quickly preview non-unwrapped meshes
Importing big meshes is 30% faster now
Added basic .blend file support, will import first mesh from the file
Importing materials from .blend file will be enabled in the future
Fixed drag and drop support on Linux
Fixed text field editing on Linux
Pen pressure now works on both Windows and Linux
Fixed window resize on macOS
Created a sample files repository, which can be used to test file compatibility:
https://github.com/armory3d/armorpaint_samples/releases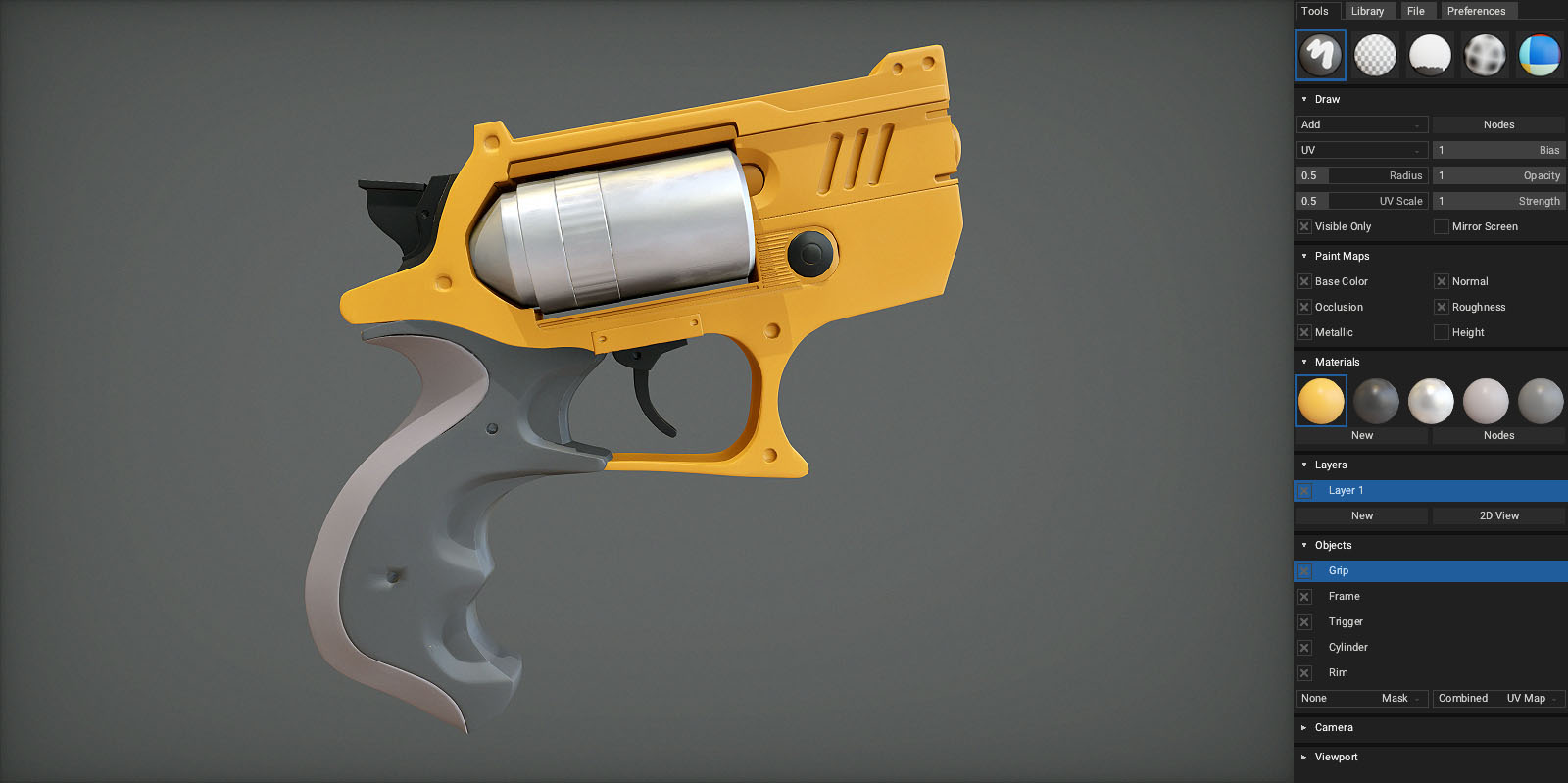 Projects can be saved and loaded now
Mesh, layers and materials will be saved into .arm project file
Project file can be imported by drag and dropping .arm file onto viewport
Saved projects are not compressed yet, due to storing raw texture data project file can take 50MB+
Added multi-object support when importing .obj or .fbx files
Objects - Mask property can be used to limit painting on the selected object only
Preparations for configurable keymap
Currently loaded mesh can be exported into .obj file now
Textures can be exported in .jpg and .png format now
Color space for exported textures can be configured
Added Auto-Fill option to the Fill tool - auto-fills selected object on each material node change
AO Bake tool can be configured with strength, radius and offset now
Use Paint Maps panel to control which textures can be painted on
Improved 2D View - select which texture to show and display UV map
ArcBall, Orbit and Fly camera types now available
Experimental: Drag and drop .hdr file onto the viewport to change the environment map
Up axis for the imported model can be flipped to Y or Z now
Preferences are now auto-saved
Shadows quality, super-sampling, ssao, ssr, bloom and backface culling can be configured
Lots of UI refinements
Improved UI scale, works for nodes and file browser now
New material nodes have been added
Color space can be configured for the Image node
Added Draw - Mirror Screen option for symmetry painting
Viewport - Show Envmap now works properly
Added Viewport - Show Grid option
UI layout can be set to left or right side now
Drag and drop a folder with PBR textures onto the viewport,
ArmorPaint will automatically create a new material from imported textures
And tons of other bug fixes
---
ArmorPaint 0.5 is the biggest update yet! Essentials like undo support and project saving are now in. More improvements to the interface, masking and especially import pipeline are imminent. Please let me know about the most annoying bugs you stumble upon.
Thanks for battle-testing!