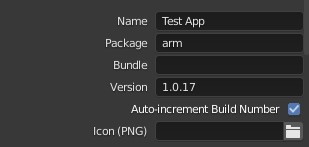 Input in the Version field is processed and only allows input by masks:
0.0
0.0.0
0.0.0.0
In any case, the value is ignored and the previous value remains.
If the (Auto-increment Build Number) checkbox is checked and when performing the operation, Build and Publish will be automatically incremented by one after the version value.
Examples:
it was 1.0 - it is 1.1,
it was 1.9 - it is 1.10,
it was 1.0.1 - it is 1.0.2,
it was 0.1.1.2 - it is 0.1.1.3.