New builds are up and can be downloaded at:
(Patched build 10a fixes issue when loading existing .blend projects on Windows.)
Getting started at:
http://armory3d.org/manual/getting_started/setup.html
---
Armory is 10 builds old - now with release notes! In case of issues, previous Build 9 is still available on itch.
Changelog:
Major improvements to the system of Logic Nodes, currently implementing 145 logic nodes. Will keep rolling out more docs and examples. Nonetheless, the system is still very young and needs more refining - beware of potential breaking changes in the future.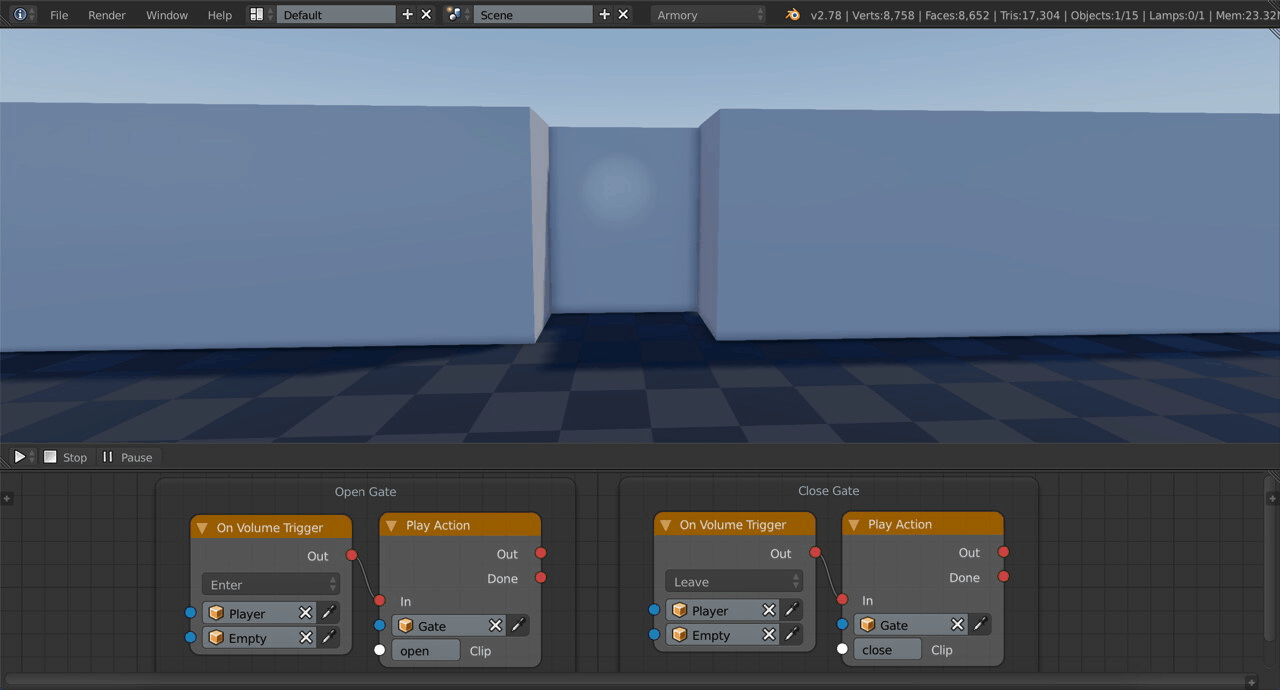 Scene 5 tutorial is in the works - a two players tanks game. Tutorial will come with a full manual page and a video, intended as a starting point for creating games using logic nodes in Armory.
Player 1 controls - WSAD to move, F to fire.
Player 2 controls - Arrows to move, M to fire.
Alternatively, the game supports gamepad controls - Up, Down, Left, Right to move, X (or A) to fire.
https://github.com/armory3d/armory_examples/tree/master/scene5
A new input system with support for mouse, keyboard, touch, gamepads and virtual buttons, accessible from logic nodes. (check examples above)

Minor live-patch fixes, the player will no longer close when placing new objects into the scene. Editing materials and logic nodes live is not yet supported, but is on the way.

More improvements to the animation system - skeletons with more than 50 bones should now work out of the box, improved bone weight calculation. Models pictured below are from ManuelBastioniLAB, unfortunately generated materials do not work yet.
Progress on the Virtual Reality support - still early! Selecting 'VR Low' rendering path in Properties - Camera Data - Armory Render Path and running the project in WebVR enabled environment should register the device and enable camera controls using the headset. More to come!
Progress on the voxel-based global illumination system. Cornell-like box test should now work when running in stand-alone Krom window(F5). Options are not exposed yet, making the look hard to tune - will be fixed. This feature requires a modern GPU with OpenGL 4.5 support. In the future support for more APIs will be added.
https://github.com/armory3d/armory_calibration/tree/master/cornell
Armory now support calculating tangents for normal mapping on the GPU. With this option you may further reduce mesh data sizes. In some cases this may reduce performance, use with care. To enable, uncheck Properties - Armory Player - Export Tangents.

'.' character in SDK path should no longer produce errors, Armory should work out of the box when installed from itch.io app.

Space corridor scene is now playable in the browser:
armorbench
---
Onwards to Build 11:
Improving animation system

Get closer to Cycles output using voxel GI

Working with logic nodes exposes a huge thing missing - no way to reasonably work with the UI. A work on a helper tool to create responsive UI layouts has started. The elements will be accessible from scripts/logic nodes, along with simple event handling.
Almost ready with a small archviz demo, will be released as a stand-alone benchmark, similar to the space corridor scene.
A basic world streaming is investigated / planned - textures will not be streamed yet, but meshes will.
---
That is it for now - thank you for support! Will be fixing all the bugs that pop up. While there is still quite some work to do before even dropping the preview tag, releasing 10 builds already feels good. Development is unstoppable and interest in the project is astonishing - essential things to create something great!