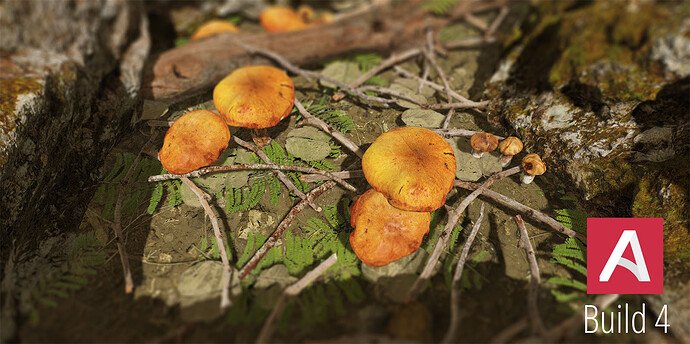 Assets by megascans.se
New builds are up and can be downloaded at:
Getting started at:
http://armory3d.org/manual/getting_started/setup.html
---
Time for new preview builds! Lots and lots of work went into this one. More bugs have been squashed together with all around refinements. In case of critical issues, updated builds will be pushed. Previous Build 3 is still available at itch.
Improved rendering of translucency. Opacity socket in Armory PBR can now take direct value, separate image texture or alpha of Base Color. Translucent surfaces can now also cast shadows (basics only for now).
Forward renderer is now also capable of rendering translucency. While the transition to new render path builder is complete, use deferred_high, forward_high or hybrid path to enable translucency.


Improved rendering of soft shadows. To enable select Camera - Properties - Camera Data - Armory Render Props - Soft Shadows - On. This feature is disabled by default as the performance is not yet as good as it could be. Also, setting lamp size too high can cause noisy result.


Primitive level of detail module has been implemented. New lod example added. System is not very usable yet but will be improved in next builds.


Primitive navmesh module has been implemented. New navmesh example added. Again, just the basics are in but a good foundation for further progress.


New Scene 3 - Animation page has been added to the manual.


New Generate mesh page has been added to the manual.

Preliminary Render Path builder at Camera - Properties - Camera Data - Armory Render Path. Some settings still do not work so usage is not yet recommended. This system will eventually replace default imported render paths to provide more flexibility.

Unsupported material / compositor nodes should no longer throw errors and halt build process. Instead, warning will be displayed in console.
---
Onwards
Main focus of next build is finally the material system, which is the biggest culprit of issues right now.
To make things safe, two material contexts will be available. Restricted context will continue to work with Armory PBR only and will focus on being spartan and fast. Full context will aim to support majority of Cycles nodes while still being as performant as possible. Complex materials may obviously require more power.
On top of that, all around fixing of issues and usage refinements will continue. As always, looking forward to your issues / feedback / ideas and see you out there!