Hi,
I am facing a problem from beginning on when using environment textures. And I know that this topic has been discussed quite a lot of times and i went through all of them. And most of the times the problem was solved by doing this and that.
Armory always throws this error message when pressing the play button: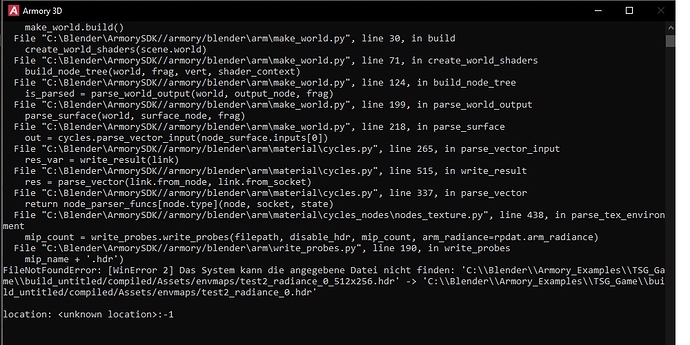 It shows that radiance file of the hdr could not be found. And when checking the folder there is no such file. After reading all the topics it seems that cmft is maybe not working correctly.
I cleaned everything.
I already removed all empty spaces in the naming of the files and folders.
I checked the HDRI if #?radiance is shown in the header which is the case and also tried different once from several sites.
Also I tried a .blend file that was offered to me here in the forum, but it didn´t work either. Always with the same result.
I reinstalled Blender several times and also removed all additonal addons.
I also swapped the cmft.exe in the folder.
But nothing solves this problem.
I am using Armory3D 2021-2, Blender 2.83LTS, Windows10, RTX2080 Super
Hopefully anybody can otherwise I think this will be my breaking point with Armory3d