Get System Name - to get the name of the system while the application is running.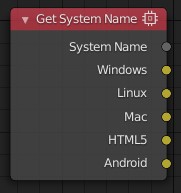 Output parameters:
System Name — displays the system name as a string;
List systems for quick comparison.
Please check on Linux. I'll check the rest myself.
Do you need to add other systems (HTML5-Worker, Flash, Java, NodeJS, Unity, WPF, BSD, Solaris - these are all the names that I found in the engine, I can't check them)?
Scripts: GetSystemName.zip
P.S. You can implement both in the Keyboard node with a drop-down list and there will be 2 output parameters: system name and check.