Hello! I am trying to add multi touch functionality On Canvas Element node and creating a node like Pick Object but with multi touch and not caring about coords.
Unfortunately i can't get a successful build in Android Studio (like two hours trying and don't get it). I've made a publish project with the test setup, so if anyone can test it for me would be good!
I expect the objects touched to go into the array and also its hit locations, so if this works then i will start to look into On Canvas Element node in the same fashion.
I've added the Virtual Gamepad trait to see if it works with multitouch, so if it don't report and now is the time to fix it.
The node design is here, feel free to make suggestions: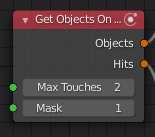 Please, try to build-run the project or send me an APK