Hi all, I download the Tank game example. I found it scene can be rotated or moved by my mouse left button pressed. I also found its armory output options were: "Krom","Scene".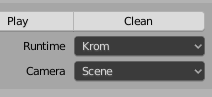 I try to make a simple game by myself, also set Runtime to "Krom", and set Camera to "Scene", but finally I can't navigate my scene by my mouse pressed.
What I missed or options can be chosen? Could anyone help me archive it like tank game do?