Hi
I wanted to discuss about new and better animation system that I hope to implement into Armory3D. The limitations of the current animation system is listed here on GitHub.
I looked around a bit on how other game engines(Unity, Unreal, Godot, etc…) do these animations and came to a conclusion that Godot had a relatively simple yet robust animation system. And, to take inspiration from these systems.
Just for reference, here is a YouTube tutorial of making a TPS controller.
For starters, Godot has 3 different types of animation nodes:
Animation getter nodes. These get the required animations

Blend nodes: These simply blend 2 or 3 animations together.

Transition nodes. These help animation to smoothly switch from one animation tree to another.
The animation tree is a group of nodes that contain animation getters and blend nodes.
Here, to keep things simple, I will be focusing only on 3 different nodes, and how to implement them.
get action Node, Blend Node, transition Node: The objective here is to first get such an animation system working: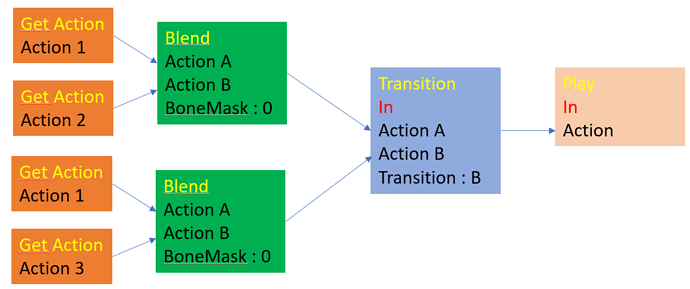 So any ideas on how we could implement something like this?
Best,
QC