On Swipe - node for the swipe event.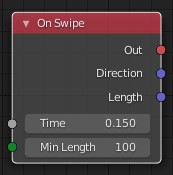 Input parameters:
Time - duration of the swipe (default value 0.15 s);
Min Length - the minimum length that the swipe must "pass" (default value 100 px).
Output parameters:
Direction - normalized vector of the swipe direction;
Length - the length of the swipe (to assess the "strength").
The Length output parameter is calculated by the vector value (without normalization) to relate to the input value.
Scripts:
OnSwipeNode.zip