Set Vibrate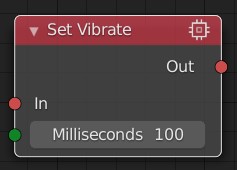 Category: Native
Pulses the vibration hardware on the device for time in milliseconds, if such hardware exists.
Input parameters:
Milliseconds — time in milliseconds (data type Int, default value 100).
Demo: web (launch from a mobile device), android.
Scripts: SetVibrateNode.zip
For android:
Do not forget to register permission for the application to use vibration (AndroidManifest.xml):
<uses-permission android: name = "android.permission.VIBRATE" />

If the target version is Android SDK < 26, then the project will not be built in Android Studio, because the android.os.VibrationEffect module is bound there, which appeared only from this version. We'll have to edit the Kha project template for android.