Hi!
Here is not the best place to talk about this, but i am just involving more people…
I had a simple custom node that is "movement alpha". The function of this node is to provide a direction for the character: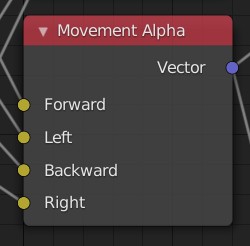 As you can see, there is four boolean inputs. You can put WASD in this inputs and the node will give you a direction in vector to be multiplied by the velocity you want.
The problem is: if you press A + D, the character will not move (because the alpha of X will be 0), but if you press W or S together with A+D, the character will have the double of the velocity.
I really don't know what is happening here. There is a Canvas element to debug the given vector and it is ok (never is 2 for example). The bug also happens with other keys and also is present even in the viewport camera.
If someone have a opinion of what is causing this bug, i could better formulate an issue for Kha.
There is the test files with the node: movement_alpha.zip
Thanks in advance.