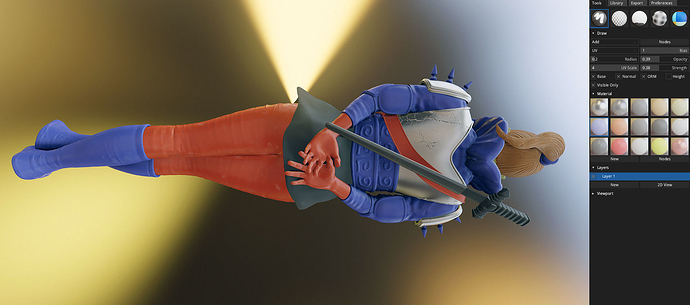 ArmorPaint 0.4 is out!
ArmorPaint is an in-development tool specialized in physically based texture painting of 3D models.
Buy the preview version if you wish to support development

If you support Armory fund, use the link from welcome email to download

If you bought Armory before it was free and no longer have the key, send me a message
Get started:
https://armorpaint.org/manual/
---
Note: At this point ArmorPaint is a very limited tool and is very likely to contain major bugs! When you encounter issues, please report them at https://github.com/armory3d/armorpaint/issues. I will do my best to fix all mayor issues as we go towards 1.0.
Updates:
Manual has been updated https://armorpaint.org/manual
Web page has been updated (thanks to @rovacado!) https://armorpaint.org/
Runs on the latest Armory, GPU usage should be improved again
Cleaner directory structure for program data
Linux compatibility should be improved
Live material previews are now rendered
Support for painting height
Added new sticker tool
One-step undo support, will be configurable in future builds for more undo steps
Lots of small bug fixes
A roadmap will be published soon at https://armorpaint.org/roadmap.html
New quick-start video!
---
Due to recent woes ArmorPaint is still a paid software, but my plan to eventually make it FOSS stands. Next up - Armory 0.5 incoming!
Thanks for the battle-testing!