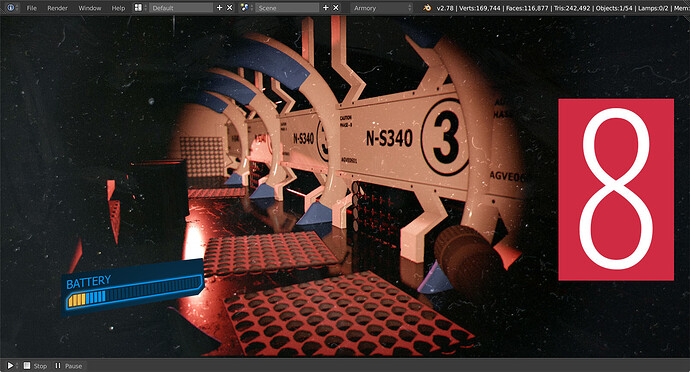 New builds are up and can be downloaded at:
Getting started at:
http://armory3d.org/manual/getting_started/setup.html
---
Yes, finally there! This one took a while - the biggest Armory release yet. There are tons of changes under the hood, in case of issues the previous Build 7 is still available on itch.
Changes since last build:
(You may have already seen some of this)
The engine is updated to run on the latest releases of underlying components, including Blender 2.78c.


The engine is getting 3D painting features. It will be possible to integrate the painting into any armory project, for example for fancy decal system.
Lamps now finally rendered with falloff / attenuation. With tonemapping and world lighting disabled, lighting should closely match Cycles rendered reference.


Enabled Voxel based GI preview in Camera data - Armory Render Path - Voxel GI. The feature requires high-end gpu and is in very early state - voxelization & relighting happens every frame and flickering can occur. Selecting C++ runtime with C++ compiler installed is required. In the next build it will also run like usual in Krom and viewport. I will write a separate topic on this one to go more in detail. (Only one small example currently).


With voxel based GI, all data will be there to bring Armory output closer to Cycles. A special repository is being created to compare outputs side by side.


Editing bundled scripts is now possible - with bundled script selected, the usual 'Edit Script' button will show up - this will copy source to project and open local copy in Kode Studio.


By default, Armory always saves the project on build. This can now be disabled in add-on preferences.


More UI clean-ups, the Armory Player panel is probably as clean as it gets now.


A barebones per-project library system is added. This makes it possible to extend Armory projects with third-party code - add bundle of new object traits, pack of new logic nodes,… Working on examples to showcase this.


New example on animated UVs, achieved using 'standard' Cycles material.


New example on spawning UI panel on top of Armory scene. Currently this is script-only solution, in the future this will get resolved.


New example on simple UI controls in 3D space. This example also showcases playing animations from script - pressing the open / close buttons makes the door move using animation keyframes.


New example on tessellation material.

New example on movie textures. Currently browser / electron only, will be resolved in the next build.


New example on rendering real-time mirrors. Note this is very hardware demanding, as the scene is rendered again from scratch for each mirror.


New example on area lamps. The shadows will appear the same like for point lamp, however glitches should no longer occur.


Improved sun lamp shadows covering camera frustum, regardless of lamp position. In the next build this will be further improved using cascaded shadow mapping to handle shadows in distance for 'endless' worlds.

New logic node compiler is now finished. Only a handful of nodes are still implemented so probably not that exciting yet. However, with the system in place it should now be finally super easy to start adding more and more nodes. On top of that, the system handles adding of custom, user defined logic nodes. Using the new library system, it will be possible to a create pack of new logic nodes and add them into Armory project, without the need for any engine modification. Will make a full manual page on this. Simple rotating monkey looks like this now:

---
Sorry about the wait for Build 8 - please let me know in case of any issues!
Onwards to Build 9:
Adding logic nodes
Improving animation system
Get closer to Cycles output using voxel GI
Using the benchmark scene to profile and speed up renderer